Edward Chert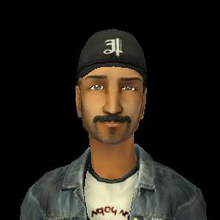 Biography: None
Life State:
Name: Edwart Chert
Age: Young Adult
Gender: Male
Type: Human
Education & Employment:
Year: Freshman
Major: Undeclared
Personality:
Aspiration: Fortune
Zodiac Sign: Gemini
Lifetime Want: Become Criminal Mastermind (Criminal Lvl10)
Relations:
Parents: None
Siblings: None
Romances: None
Children: None
Marital Status: Single
Appearance:
Hair Colour: Black
Eye Colour: Brown
Skintone: S3
Body Shape: Thin
Other Information:
Game: The Sims 2 University
Playability: Townie
Neighborhood: Land Grant University
Edward Chert is one of the pre-made townies in Land Grant University. He can be made playable by befriending and asking him to move in, or by marrying him.
Edward's skills and interests are randomized upon loading Land Grant University.
In the subhood template, he has no skill points.
Like the other townies and NPCs in Land Grant University, Edward's name gets randomized when Land Grant University is being added to a neighborhood. The name "Edward Chert" is only referenced in the subhood template.
He's also a member of the Secret Society! Shhh!
Ad blocker interference detected!
Wikia is a free-to-use site that makes money from advertising. We have a modified experience for viewers using ad blockers

Wikia is not accessible if you've made further modifications. Remove the custom ad blocker rule(s) and the page will load as expected.