Sam James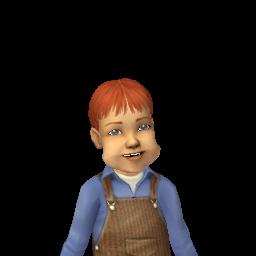 Let's play.
Type: Human
Gender: Male
Age: Toddler
Aspiration: Grow Up
Zodiac Sign: Pisces
Relations:
Danny James (Parent)
Mary James (Parent)
(Twin)
Genetics:
Hair Colour: Red
Eye Colour: Dark Blue
Skintone: S1
Neighborhood: Mountainside Valley
Sam James is a toddler Sim who resides along with his family in Mountainside Valley and is 3 days away from becoming a child.

Both, he and his twin sister, Tina, are seemingly active from their bios. They both have the same zodiac sign as well.
Ad blocker interference detected!
Wikia is a free-to-use site that makes money from advertising. We have a modified experience for viewers using ad blockers

Wikia is not accessible if you've made further modifications. Remove the custom ad blocker rule(s) and the page will load as expected.